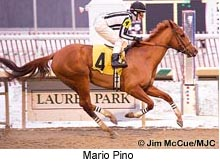 LAUREL, MD. 01-21-12---Mario Pino moved ahead of Larry Snyder for 12th on the all-time win list when he guidedmultiple stakes winner Red's Round Table ($3.80) to a popular score in today's eighth race at Laurel Park. The 50-year-old has 6,389 trips to the winners' circle during his career. It was his first victory of 2012.
Pino's next goal is to land in the top 10 all-time before retiring. He is 82 wins away from passing Earlie Fires and moving into elusive company. He still must maneuver by Hall of Famer Sandy Hawley (6,450 wins) before setting sights on Fires (6,470).
"It is getting harder to win races. It seems like it took forever to get to this milestone," said Pino, who rode Hard Spun to on-the-board finishes in the 2007 Kentucky Derby, Preakness Stakes and Breeders' Cup Classic. "I haven't been getting a ton of mounts but I thought I had a good chance to win one today and I am happy to do it on a really classy horse. But I'll keep plugging away and see if we can get in the top ten this year."
The Ellicott City resident won his first race aboard Ed's Desire on January 16, 1979 at Bowie Race Track and became the 15th jockey in North America to win 6,000 races when he rode Pass Play, a horse trained by his brother Mike, to victory at Laurel Park on November 7, 2007.
Red's Round Table improves to eight-of-10 lifetime and is now is four-of-five at Laurel, including victories in the Marshua and Wide Country Stakes last year. She also has a pair of added money victories at Aqueduct and another at Delaware Park.
"She did everything right," said winning trainer Tim Keefe. "Twenty years I worked for Jack and Gretchen Mobberley and Mario was riding everything for them so this was like old times. Now to be on my own and get to have him ride my horses is a good feeling."