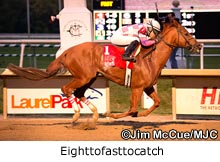 LAUREL, MD. 10-19-13---Sylvia E. Heft's Eighttofasttocatch led from start to finish and won the $150,000 Maryland Million Classic for the second time in the past three years. Last year the son of Not For Love finished a fifth in the Classic as the betting favorite but this year things were completely different.
The Maryland Million is the one of the most important racing days at Laurel Park with 11 events for runners sired by Maryland-based stallions for combined purses totaling $1 million. The 28th annual event drew a crowd of 18,036 on a cool, crisp Saturday afternoon in central Maryland.
Garrison Forest High School graduate Forest Boyce sent the 7-year old to the lead from his advantageous rail position and was able to nurse him around on the lead in 1:50.42 for the 1-1/8th mile distance. Eighttofasttocatch won under a drive by 3-1/4 lengths over Romancing the Gold, with Wild Louis taking third.
"It worked out great. We got away well," Boyce said. "I thought someone might try us early, soften us up but it didn't happen. My whole family is from here. My ninety year old grandmother came out today, which was really cool."
Eighttofasttocatch is 2-for-6 this year, which includes a score in the Henry Clark Stakes and a gutsy second in the Pimlico Special (G3) on Preakness weekend. The 7-year-old now has seven career stakes victories at Laurel Park and has earned $794,585.
"I was very comfortable with where I had him coming into this race, but my concern was that I was comfortable last year and it didn't go quite as well," said winning trainer Tim Keefe. "I didn't think I needed a prep for this race because we all felt that he was right. I guess my only concern now is that he is seven and we may only have him for another year or two. He will be hard to replace in our barn."
The winner paid $2.60 as the popular favorite.
"I guess winning feels like I was pitching in the World Series," said Arnold Heft, the husband of the winning owner. "The only thing bad is, I don't know where I'll be tomorrow. My wife is not well. I'm just sorry she's not here. She was here the last time. Racing keeps me going right now. When Eighttofasttocatch runs his race, he won't get beat."